Ricardo Engine Generators | Fe Power | Diesel, Gasoline and Portable Generator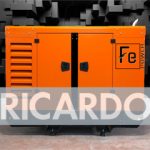 The engines of our Ricardo powered generators are of Korean origin and are offered to our customers in 35 – 250 kva scale.
Our Ricardo Motor Generators are up to 250 kva. Click for our models over 250 kva!.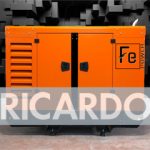 The Standards of our Ricardo Motor Generators are as follows.
4-stroke 1500 rpm Water-cooled heavy-duty diesel engine
Dry type replaceable air filter
Radiator capable of cooling up to 50 °C
Flexible fuel hoses and oil drain valve
Engine jacket water heater
4-pole synchronous type, single bearing, brushless alternator
Electrostatic powder painted chassis made of steel sheet welded
Fuel tank integrated into the chassis
Industrial muffler
Battery and cables, Elektronk battery charger
electrical circuit diagram
Manual start protection system
Most frequent questions and answers
Diesel and gas generator support • 400Hz generator support • Event recording with 400x measurement value • All parameters can be changed from the front panel • 3-level program code • 128×64 pixel graphic LCD • Dl upload • Current-voltage waveform • Current-voltage harmonic analysis • Synchroscope and synchronous relay • 16 Amp / 250V SH / JK outputs • 8 programmable digital inputs • Inputs can be increased to 40 units • 8 programm digital outputs • Outputs can be increased to 40 • 4 programmable analog inputs • CANBUS-J1939 & MPU inputs • 3 units programmed service alarm CONTROL PANEL FEATURES CABless FEATURES • Multiple automatic test program • Weekly work schedule • Dual generator support,evenly aged • Fine speed regulation (some ECUs) • Automatic fuel pump control • Protections cancel feature • Over power protection • Reverse power protection • Over current IDMT protection • Load shedding, dummy load • Multiple load shedding programs • Current unbalance protection • Voltage imbalance protection • Fuel filling and fuel theft alarms • Real time clock with PL support • Idle speed control • Battery charging operation • Multiple nominal condition definitions • Contactor+motorized switch driving • 4 quarter energy meters • Mains energy meters • Fuel filling meter • Fuel consumption counter • Modem & ethernet pages • USB, RS-485,Parameter setting via Ethernet and GPRS • Free configuration software • Control via SMS • Ready for central monitoring via Ethernet and GPRS • Mobile generator support • Automatic GSM location determination • GPS connection (USB and RS232) • Dynamic DNS support • Software download via USB • IP65 protection with standard gasket • Battle mode support